Spring is finally upon us... and that ultimately means spring cleaning is here, but not to worry my friends! Writer, Maya Potter, joins us to help us breathe new life into our living spaces with 5 vegan home decor items this spring!
1. Vegan, hand poured soy candles for atmosphere 
Scent has a powerful way of bringing life to our best memories and bringing back forgotten ones. Burning a hand poured soy wax candle is a clean, lasting way to bring a layer of relaxation and sensory joy guests can carry with them.
Scrumptious Wicks Candles, made with vegan soy & coconut wax
2. Vegan leather accent furniture to bring texture to a room 
A storage ottoman or a new chair can bring a new energy to any space, and it can be even more interesting when you throw a new texture into the mix. Leather has gone vegan, and it's coming in more useful and interesting styles than they ever have in the past. Adding throw pillows, a clean lined chair or an opening ottoman can create just the right new dynamic for your space.
Faux Leather Ottoman at Wayfair
3. Growing herbs on window sills to bring color to the kitchen 
Everyone can develop a green thumb, and you can do it right in your kitchen window. If it's lucky enough to get some good sunlight, growing small herbs on your sill is a great way to reuse your Scrumptious Wicks jars and tins, bring color and new visual appeal to the landscape of your kitchen.
Photo courtesy of The Spruce / Letícia Almeida
4. Incorporating wood vases or serving trays for a visual dynamic in the living room 
A unique and handcrafted decorative piece is always an excellent way to bring new appeal to your gathering space, and local artists and crafters are easier to find than ever through online markets like Etsy and Amazon. A wooden serving tray or a handcrafted centerpiece can showcase your personality and support a local artist or crafter.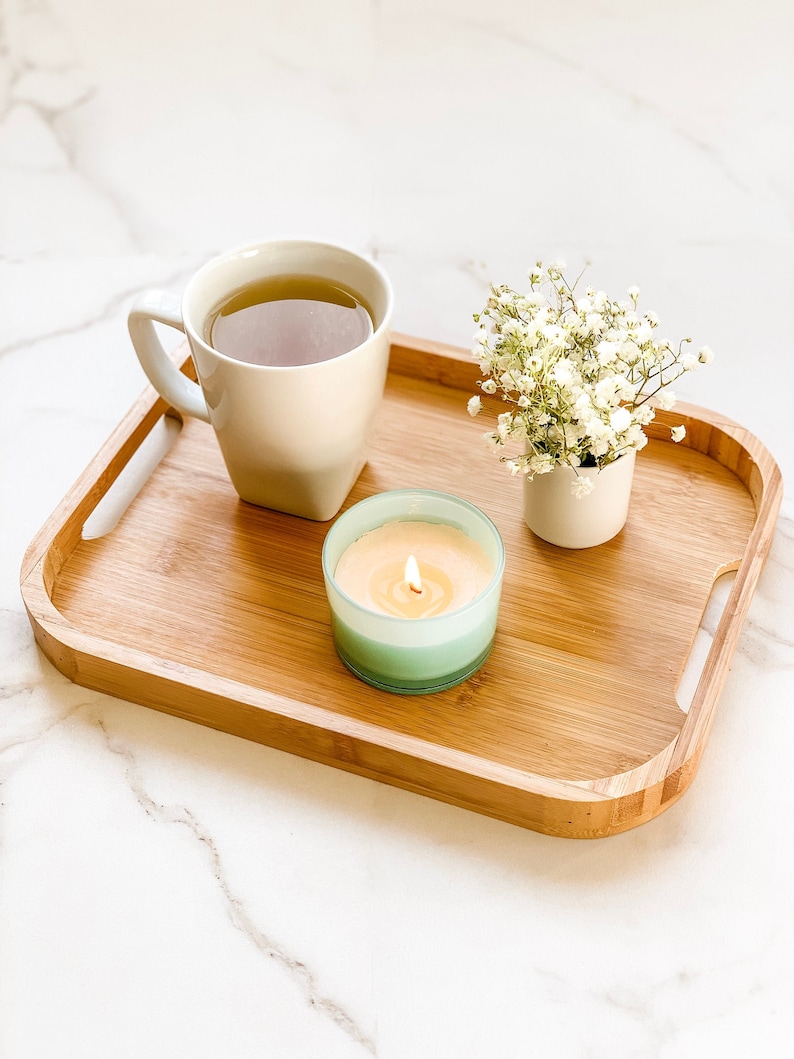 Handmade organic bamboo tray at Etsy
5. Essential oil diffusers entice the visual and olfactory senses 
As we know, scent can bring forth and revive great memories, and it can take on life visually with an essential oil diffuser. Diffusers provide a different kind of presence to the design of a room, and can they bring visual life to the smells we love and enjoy.
Ceramic essential oil diffuser at Amazon
What are your favorite additions to your home for the spring? Let us know in the comments below!