All Things Home and Garden with Scrumptious Wicks
For myself and millions others, the past couple weeks have been a roller coaster of emotions. Things were changing so rapidly and I was in a panic just like everyone else. However, now that I have somewhat settled into a new routine, I've found that one thing remains clear: taking care of myself is just as important as taking care of my family in these unprecedented times. I like to use the oxygen mask example; remember all those in-flight instructional videos? (I know... seems like eons ago that we were traveling via plane...) They always depict a parent putting their...
---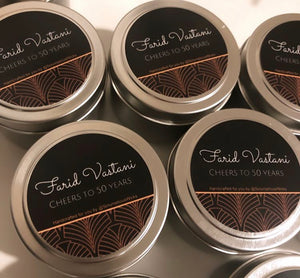 Over the past few years, I've had the honor to create some AMAZING favors for my customers and their special events. Scrumptious Wicks' customers have loved gifting these candles to their family and friends for a few reasons.   1. They're handmade with love.  There's something just a little extra special about a handmade gift right? All Scrumptious Wicks candles are small batch made and hand-poured. If that's not truly personal, I don't know what is. 2. They're customized to honor whatever it is you're celebrating. Whether it's for a bridal shower, a baby shower, a wedding, a birthday party,...
---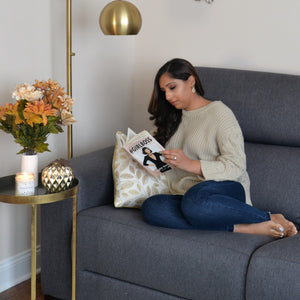 Well, it has finally come to that time — the time to reflect on the past year. After taking a 3-month maternity leave, I returned to my full time job as an Optometrist in January. Almost everyone thought I would take a break from Scrumptious Wicks while I went through this transition period. To be honest, even I thought I would. But a part of me knew that I would miss it far too much if I stopped. It wasn't because of pride; it was because creating and pouring candles was my escape from the day-to-day chaos. I really enjoyed...
---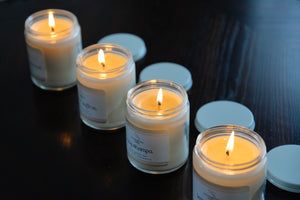 Honestly, where is the scratch and sniff button when you need it, right? 
I know it can be difficult to pick scents when they're not in front of you to experience. So I've decided to make a list of scents for your every day needs. Need a scent to clear kitchen odors? I've got some suggestions for you. One to light when you're winding down for the night? Got one for that, too. Or maybe you're into sweet/bakery scents? I got you covered.
---
• india • indian monsoon • mango lassi • monsoon season • scented soy candles • south asia • soy candles • soy wax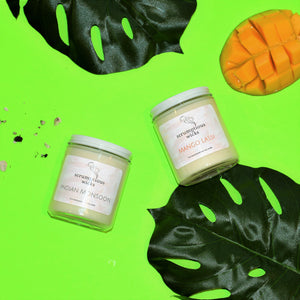 A few months back, I was trying to figure out how to capture the essence of summer in a candle. And what I often do is draw inspiration from my own childhood memories.  I was born and raised in the US, but as a kid, my mom would make it a point to take me to Mumbai, India every 2 years. I would wrap up the school year in June, and a day or two later, I would be spending the entire summer with my cousins in India. And we would have a BLAST all summer long. I fondly think back...